Laser Therapy in Seaford Delaware


What is SUMMUS Laser Therapy?
The SUMMUS Laser is a painless therapy that uses specific wavelengths of light that creates therapeutic effects such as increasing circulation, decreasing pain, inflammation, decreasing swelling and it also improves healing time. The therapeutic effects of treatment may penetrate deep enough to help patients with large joint problems with the lower back and hip problems. Being able to treat patients naturally and effectively with Laser Therapy to bio stimulate tissue repair has proven to be a real asset for many patients.
---
Treatment Time and Relief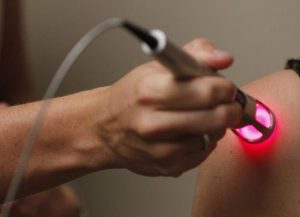 Laser sessions typically range from 6-8 minutes. Often, just a warm sensation is felt during the treatment. During each treatment, laser energy increases circulation, reduces inflammation and swelling while increasing circulation to the affected area.  Most conditions take approximately 6 to 8 visits, depending on the severity. Chronic or severe conditions may take 15 or more treatments and may benefit from a periodic "Tune-up" just like Chiropractic care.
Numerous studies have shown the effectiveness of laser therapy in the treatment of arthritis, back and neck pain, carpal tunnel, knee and shoulder pain, foot and ankle problems, sports injuries and fibromyalgia just to name a few.
---
How Does It Help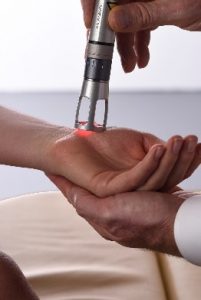 Much like Chiropractic, this therapy is not designed to specifically treat any particular condition. The SUMMUS Laser accentuates the body's innate ability to heal, regenerate, and repair damaged tissue thus speeding the recovery time. The treatments are pain free. There is no down time for recovery. There are very few side effects and contraindications.
There is no single procedure that is 100% effective for treating musculoskeletal conditions. However, I know from my own experience of over 35 years of practice that I could not practice effectively without the SUMMUS Laser. I have been very impressed with patient outcomes with a wide variety of conditions that I have seen using the SUMMUS Laser in conjunction with Chiropractic and Acupuncture. With Acupuncture, instead of using needles, I use the SUMMUS Laser to stimulate acupuncture points which is noninvasive and painless. It is safe, with no risk of infection and very effective.
OFFICE HOURS
---
Monday
8:30am - 12:30pm
2:00pm - 6:00pm
---
Tuesday
8:30am - 12:30pm

---
Wednesday
8:30am - 12:30pm
2:00pm - 6:00pm
---
Thursday
8:30am - 12:30pm
2:00pm - 6:00pm
---
Friday
Closed
---
Saturday
Closed